We've asked some of our authors, contributors, and favorite people in the beading community to recommend the very best beading and jewelry books, and we're stacking these lists all together for you. The books might be ones they especially treasure and love, that affected their own work or development, or simply books they'd recommend as excellent, helpful, and instructive.
Click here to see an earlier post featuring the first eight lists, from Diane Fitzgerald, Jean Campbell, Sabine Lippert, Margie Deeb, Kathy King, Carol Dean Sharpe, Jennifer VanBenschoten, and Jill Wiseman.
Our newest list is from Amy Katz, joining the wishlists of Margo C. Field, Diane Hyde, Melissa Grakowsky, Jean Power, and Paulette Baron. We'll keep updating this post with new lists in the days to come.
Please enjoy, share the link widely, and leave a comment on this post with the beading and jewelry books you recommend yourself. Join the Lark Jewelry & Beading community on Facebook, too!
List No. 14: Amy Katz
Amy's website is beadjourney.com. She writes:
I decided to look at this list as if I was stranded on a desert island (with all my beads of course), and upon my arrival my books were sinking. Which ones would I save not knowing if I'd ever see another living soul? I know I'd never run out of beads (I have bought more than my lifetime's worth). I think all true bead addicts can relate to that. So if it was going to be me and my beads isolated for an undisclosed period of time or perhaps forever, here are the books that I couldn't live without. Happy holidays to all!
1.  Creating Glamorous Jewelry with Swarovski Elements by Jean Campbell
I love this book. Jean has taken the jewels of the famous and translated them to beadwork. What a wonderfully creative concept that to me is so inspiring.
This is truly a sea of beautiful projects from some of the finest artists of our time. Looking at the photos gives me so much inspiration to create and move forward with my art.
3.  The Art of Bead Embroidery by Heidi Kummli and Sherry Serafini and Sherry Serafini's Sensational Bead Embroidery
It's a tie! I'd save both of these beautiful books. I love the way Heidi and Sherry compared their views of the art in the former book, but it's also nice to have one of Sherry's solo compositions. These two are true companion books if you want an in-depth view of bead embroidery.
4.  Beaded Colorways by Beverly Gilbert
This book really opened my eyes to the beauty of color. The way it is written actually demonstrates the use of color that in my mind is a very difficult concept to get across. It is uniquely and beautifully done.
5.  Rachel Nelson-Smith's Bead Riffs
I really enjoyed the way Rachel mixed her love of jazz with her love of beads. There is really passion in this book from both of her creative sides, which makes it very special for me.
6.  Beading Across America by Paulette Baron, Amy Katz,
and Sherry Serafini
I have to tout my own book, not for the "me" factor at all but for the "we" factor. This book features projects from some of the greatest artists of our time. It is a sampler of projects designed to inspire people to look at their work in a new light. It also features a huge variety of stitches that makes for a great learning opportunity. I can't even begin to describe how much I've learned about the art of beadwork just from being a part of this publication.
List No. 13: Margo C. Field
Margo C. Field started teaching beadwork in 1993 and opened Poppy Field Bead Company in 1995. Her website is www.margofield.com. She writes:
I have a short list on three books that are special to me. As I am a bead artist, I am not looking for books about patterns; I am looking for books that are an inspiration to me because they show me what other bead artists are creating and the infinite possibilities of using beads as building blocks of beauty.
Everyone should own this book to view the incredible diversity in today's beadweaving community. Fantastic pictures with personal reflections from each of the 36 artists.
500 Beaded Objects
500 original expressions inspired by the simple bead. Not simple at all—but simply exquisite.


The Beader's Guide to Color by Margie Deeb
Since color is what first attracted me to beads, I find this book totally fascinating. And it does include some practical projects.
List No. 12: Diane Hyde
Diane Hyde has been making jewelry since the 1970s, beading since 1994, and teaching classes since 2002. Her personal creative journey at the moment is to explore beadwork that reflects a found object aesthetic (beadpunk style) and Victorian-look themes. Her website is http://www.designersfindings.net.
Beading with Cabochons by Jamie Cloud Eakin
The best book on this subject! Period! I always recommend it to beginning beaders.
Netted Beadwork by Diane Fitzgerald
A go-to book every time I want to create netting. I forget how to do it from time to time, so this book is a big help.
Mixed Media Collage Jewelry by Janette Schuster
This book speaks to me. So many great ideas for found object projects.
Currently I am revisiting my love for art doll making. I incorporate beadwork with found objects. The following three books inspire those designs.
500 Handmade Dolls
Total inspiration! The best collection of creative doll making ever. I look through this book over and over.
Altered Art and also The Altered Object, both books by
Terry Taylor
Good techniques, suggestions, and inspiration.
Bead Embroidery: The Complete Guide by Jane Davis
A compendium of stitches for adding beads to common embroidery stitches and making fringes, and it also includes a section on projects, PLUS an artist's gallery and supply sources. It's a must-have bible for any bead embroidery artist.
List No. 11: Melissa Grakowsky
Melissa Grakowsky is a beadwork artist based in New England. She has a background in physics and art and is most interested in the three-dimensional possibilities of working with seed beads. Melissa teaches beading workshops internationally and sells pattern and kits through her Etsy store and through Beads East. Her website is www.melissagrakowsky.com/beadwork.
500 Beaded Objects
It's just fun to look at objects that are far from every day, and to get a glimpse of the incredible number of ideas out there.
Sensational Bead Embroidery by Sherry Serafini
Sherry's design and color sense are a constant inspiration to me.
Embellished Beadweaving by Laura McCabe
Laura's designs are simply out-of-this-world! This book is sure to become a classic with its solid, original jewelry designs.
List No. 10: Jean Power
Jean Power is a jewelry designer, writer, and teacher based in London. In addition to many projects and articles published worldwide, she have written three books and was the editor of a beading magazine for three years. Her website is www.jeanpower.com.
1. Creative Bead Weaving by Carol Wilcox Wells
This is a wonderful book, which every beader should own—no excuses! As well as great instructions on many different stitches, this book also contains many projects and inspiring pictures. This will be one book you'll turn to again and again.
2. The Art and Elegance of Beadweaving by Carol Wilcox Wells
This is the author's second book on beading, and again it is a must-own for all beaders. With instructions on more techniques and another range of projects and gallery items, this book is another great resource.
3. Mastering Beadwork by Carol Huber Cypher
A great book for beginners, which also caters to more experienced beaders. Full of color with some lovely projects and ideas for more exploration. If you are more advanced and looking to be stretched or for something new, check out this book.
4. Seed Bead Stitching by Beth Stone
A great book which takes you right from basic stitching instructions through to more advanced ideas of how to play around with them. Lots of bright, colorful work.
5. More Seed Bead Stitching by Beth Stone
The second book by Beth Stone and just as much of an essential as her first!
6. 500 Beaded Objects
If you like looking at beadwork, then you'll love this book. Full of photos of some of the most amazing beadwork from around the world, there's bound to be something here you'll like. Great for inspiration and color ideas, as well as just being a fantastic piece of eye candy.
7. 1000 Glass Beads
A must for anyone interested in beads and color. This book is full of page after page of the most beautiful glass beads. As well as being great to look at, the colors and designs will give you no end of inspiration.
8. 400 Polymer Clay Designs
If you like jewelry and design, this range of books is for you. They're perfect for inspiration and eye candy. Even if you don't do polymer clay, this book has lots of nice images and some beadwork that may interest you.
9. The Art of Beadwork by Valerie Hector
This book will appeal to a wide range of beaders: anyone interested in learning more about the history of beads and beadwork, those how like to see contemporary twists on ancient techniques, anyone who's interested in the whole design process, and anyone who just likes beads and beading. With projects and pages of inspiration this is a must-have for anyone moving beyond learning basic stitches.
10. Beading with Cabochons by Jamie Cloud Eakin
A great book for anyone interested in beading around cabochons. Featuring different stitches and techniques, with projects and a gallery to inspire any beader.
List No. 9: Paulette Baron
Paulette Baron's three-dimensional sculptural pieces utilize different sizes and shapes of beads and are made using a wide assortment of off-loom beadweaving stitches. She is the illustrator and co-author of Beading Across America from Kalmbach Publishing, and her website is http://paulettebaron.com.
Here are my favorite books:
1. The New Beadwork by Kathlyn Moss and Alice Sherer: I believe this was the first book to come out with photos of what artists were actually doing with beadweaving stitches. It elevated our medium from craft to art by demonstrating the non-jewelry aspect of beadwork.
2. Bead Art by Alice Korach and Kathlyn Moss, The Best in Contemporary Beadwork from The Dairy Barn Arts Center, and 500 Beaded Objects by Carol Wilcox Wells: These books have a sculptural aspect to them that also reflects my work. Whenever I am in a creative rut, these are the go-to books to inspire me.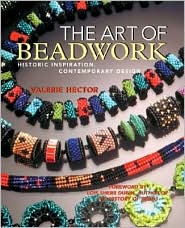 3.
The Art of Beadwork
by Valerie Hector, 2005: As an art student I was required to study art history. In later life I found the value of it. This book gives us the history of beadweaving, which I think every artist who works in the medium can benefit from.
4. The Art of Bead Embroidery by Heidi Kummli and Sherry Serafini: Although I do not do much bead embroidery, I love the layout of this book. Sherry is on one side and Heidi on the other, comparing and contrasting their styles, techniques, and inspirations. The creative part is that while they use the same stitches, they both go about their processes very differently.
5. Creative Bead Weaving by Carol Wilcox Wells:  This was one of the first books with step-by-step instructions using most of the off-loom beadweaving stitches and projects that combined the stitches.
6. Beading Across America by Paulette Baron, Amy Katz, and Sherry Serafini: Of course I am a little biased about this book. It bridges the gap between the books above, showing inspiring jewelry projects created by 30 bead artists from around the country, with step-by-step instructions.