We've asked some of our authors, contributors, and favorite people in the beading community to recommend the best beading and jewelry books, and we're stacking these lists all together right here for you. The books might be ones they especially treasure and love, that affected their own work or development, or simply books they'd recommend as excellent, helpful, and instructive.
These lists come from Jean Campbell, Kathy King, Diane Fitzgerald, Carol Dean Sharpe, Sabine Lippert, Margie Deeb, Jennifer VanBenschoten, and Jill Wiseman. Read them, and then go read even more lists.
Please enjoy, share the link widely, and leave a comment on this post with the beading and jewelry books you'd recommend to others. Join the Lark Jewelry & Beading community on Facebook, too.
List No. 8: Jean Campbell
Jean Campbell is the senior editor of Beadwork magazine, a Create Your Style Crystallized Elements Ambassador for Swarovski, a blogger for Beading Daily, and the author of numerous books, including Creating Glamorous Jewelry with Swarovski Elements, The Art of Beaded Beads, Steampunk Style Jewelry, and Beading with Crystals. Visit her website at www.jeancampbellink.com.
I have so many favorites that this could take all week, but here are a handful of books that I seem to go to for inspiration again and again: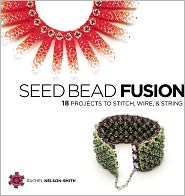 Seed Bead Fusion by Rachel Nelson-Smith: I love Rachel's use of color, but it's her beadwork shaping in conjunction with wire that totally inspires me. She's a genius! I also like that this book has both step-out photography and illustrations, something rare in beadwork books.
Enchanted Adornments by Cynthia Thornton: This book's title is so appropriate. It reads like a personal fairy tale, and Cynthia's designs and whimsical illustrations are just magical.
Creating Crystal Jewelry with Swarovski by Laura McCabe: This has been a go-to book for so many of us crystal lovers! Laura really started the whole ball rolling on seed beaders working with crystal stones, and this is the bible on how to do it. I especially like her sizing charts.
Marcia DeCoster's Beaded Opulence
Diane Fitzgerald's Shaped Beadwork
Maggie Meister's Classical Elegance
Sherry Serafini's Sensational Bead Embroidery
These four books by four of the powerhouses in the bead world are simply stunning. Marcia's intriguing shaping, Diane's clever stitching, Maggie's delicious inspiration, and Sherry's sumptuous designs make them all coffee-table books at my house.
List No. 7: Kathy King
Kathy King is the author of Bead Quilled Jewelry., and her work has been featured in all the leading beading magazines. Learn more about Kathy and her work at www.kathykingjewelry.com.
Here a a list of five of my favorite jewelry books. There are so many it was hard to pick just five!
1. Creative Bead Weaving by Carol Wilcox Wells: After taking my first beadweaving class from Carol, this was the first book I bought on the subject. It is still one of the best for instruction on the basic stitches.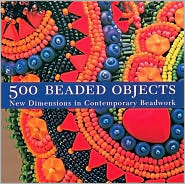 2. 500 Beaded Objects: New Dimensions in Contemporary Beadwork by Carol Wilcox Wells and Terry Krautwurst: This is just a great book to show you the diversity of seed beads. I love seeing what other artists are doing with the medium and am constantly amazed by it.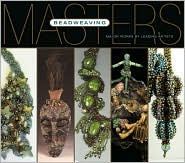 3. Masters: Beadweaving — Major Works by Leading Artists by Carol Wilcox Wells and Ray Hemachandra: Another great book to see what others are doing with the medium. Tons of inspiration from all the artists.
4. Art Jewelry Today 2 by Jeffrey B. Snyder: A great source of inspiration for jewelry design. It covers all kinds of materials and styles. I love seeing what other seed beaders are doing and also seeing the shapes and colors artists from other mediums are using.
5. Miriam Haskell Jewelry by Cathy Gordon and Sheila Pamfiloff: The book covers the entire career of Miriam Haskell and all the different designers that have worked for the company. I get so much inspiration for designs looking at the costume jewelry created over the past several decades.
List No. 6: Diane Fitzgerald
Diane Fitzgerald is the best-selling author of Diane Fitzgerald's Shaped Beadwork and Diane Fitzgerald's Favorite Beading Projects, which is publishing in March 2012, as well as 10 other book. She is the recipient of the 2011 Spun Gold Award from the Textile Center of Minnesota, a Swarovski Ambassador, and a beading teacher across the United States and internationally; learn more about Diane and her work at her website www.dianefitzgerald.com.
Here are my three picks:
1. Masters: Beadweaving
2. 500 Beaded Objects: New Dimensions in Contemporary Beadwork
3. 500 Necklaces: Contemporary Interpretations of a Timeless Form
… and all the other books in the "500″ series.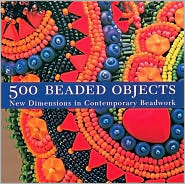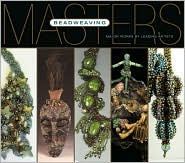 These three books are loaded with inspiration in design and color — great to curl up with and relax. 
List No. 5: Carol Dean Sharpe
Read a profile of Carol Dean Sharpe on our blog, and learn more about this New Mexico beader and designer at her Sand Fibers blog and Etsy store.
I came to beading from a long history of putting small bits of color together to create a larger whole, mostly through quilting and counted cross stitch (not to mention crocheting, knitting, and rug knotting). It should not come as much of a surprise, then, that one of my favorite books has nothing to do with beading, yet everything to do with color: Joen Wolfrom's Color Play is one of the best guides to using color I've ever read and applies to beaders as much as it does to its original audience of quilters.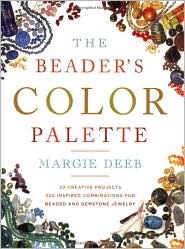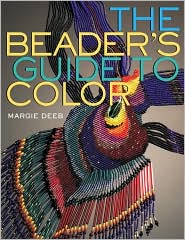 Sometimes it's good, at least for me, to look at an issue like color through a medium different from the one we are entrenched in. The absolute best book on color written specifically for beaders is Margie Deeb's The Beader's Guide to Color. A close second, and a more prescriptive book (giving you actual color recipes), is also by Margie Deeb: The Beader's Color Palette. All three of these books would be perfect as gifts for the beader who is uncomfortable with color, as they are for the bead artist who simply wants to go on a color adventure.
If I could own only one book on beading techniques, it would be Carol Huber Cypher's Mastering Beadwork: A Comprehensive Guide to Off-Loom Techniques. I still find myself referring to it again and again. It is well-written, beautifully organized, and has a spiral binding that makes it the perfect book to keep open next to your bead mat. My second choice would be Carol Wilcox Wells' Creative Bead Weaving. Here the basic stitches are not only presented but Carol shows how to combine them, how to transition from one to the next … which was an amazing revelation to me.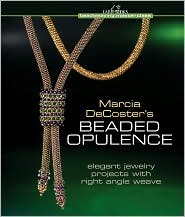 One of the most influential books for me — the one that finally forced me out of my safe peyote corner — was Marcia DeCoster's Beaded Opulence. I had bought several books on  right angle weave (both one- and two-needle) because I loved the look of the stitch, but I never actually "got it" until Marcia's book arrived. Not only am I now comfortable with RAW, I have learned to translate some of the things that appeal to me about embellished RAW into embellished peyote work.
List No. 4: Sabine Lippert
Sabine Lippert is a prolific beadwork designer and teacher, and she is the author of the forthcoming Sabine Lippert's Beaded Fantasies: 30 Romantic Jewelry Projects, which will be available in Spring 2012. See her work on her website (in German and English) www.trytobead.com, follow Sabine's blog, and read a truly fascinating interview with Sabine on this blog.
1. 500 Wedding Rings: This book is such a source of inspiration. The idea of two matching rings and what an artist can make of it is simple, but the results are sometimes funny, sometimes technical, sometimes strange, and sometimes brilliant. For this list, this book represents all the other books in the 500 Series, which I am collecting.
2. Japanese Beadwork with Sonoko Nozue: Maybe it is strange to recommend a book that I haven't seen, but this one is on my own wishlist for Christmas (although I know I have to wait a bit for it). It is the first time, as far as I know, that we can get a book  from a Japanese bead artist in a Western language, and I am more than excited about it. Although the Internet connects beaders together from all over the world, there are still styles and techniques that are typical to specific places, so I am eagerly waiting for this book!
3. Maggie Meister's Classical Elegance: When I had the opportunity to get a sneak preview of this book, I totally fell in love with it. Maggie shows her interpretations of ancient pieces in beadwork. This is a step beyond a good beading book; Maggie's book is a journey not only through beadwork but also through ancient times.
4. Sherry Serafini's Sensational Bead Embroidery: This book is pure eye candy, just like all the pieces from this "not of this world" bead artist. Whenever I have the opportunity to see Sherry's work in person, it takes my breath away. This book gives you the opportunity to become part of her way of beading.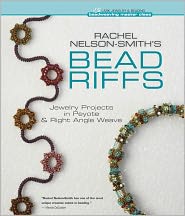 5. Rachel Nelson-Smith's Bead Riffs: Just listen to the sound of Rachel's beads! The book is playful, fun to read, and even more fun to bead!
6. 1000 Glass Beads: I love glass beads–their colors and their shapes. I can never imagine how these masterpieces are made. Here you get a collection of the most beautiful ones!
(Editor's note: I wrote to Sabine after receiving her list, wanting to make sure she knew the list could include some or all non-Lark Jewelry & Beading books if they were among her favorites. She wrote back, "I am a Larkoholic." Good enough for me. ~ Ray)
List No. 3: Margie Deeb
Margie Deeb is the author of The Beader's Color Palette and The Beader's Guide to Color, as well as the forthcoming The Beader's Guide to Jewelry Design, scheduled to be published by Lark Jewelry & Beading in 2013. She issues regular seasonal "Color Reports" for beaders and jewelers. Learn more about Margie's work at www.margiedeeb.com. Be sure to read our earlier interview with Margie Deeb on this blog.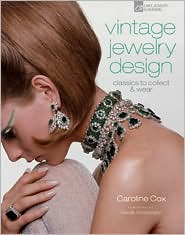 Vintage Jewelry Design by Caroline Cox: Eye-candy at its best for those of us who can't get enough of gazing at beautiful, creative jewelry. History, anecdotes, gemstones, metals, pearls, glass beads, Bakelite, royalty, Hollywood, hippie-chic, punk … i'ts all in these well-written, beautifully photographed, and mesmerizing pages.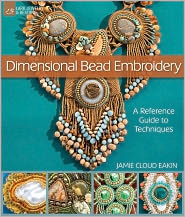 Dimensional Bead Embroidery by Jamie Cloud Eakin: This treasure trove is not only resplendent with gorgeous beaded jewelry, it is packed full of techniques. I learned 6 new ways to bezel in one sitting. Add to that all the variations the author inspires, and there's no limit to what I can now do with bead embroidery. This book is so valuable, inspiring, and easy to understand I refuse to put it on the library shelf: it follows me from room to room every day.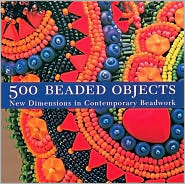 500 Beaded Objects: New Dimensions in Contemporary Beadwork: Unending inspiration. I only look at 4 or 5 pages at a time so I can savor (not devour) the innovation and beauty.
21st Century Jewelry: The Best of the 500 Series: Another book of unending inspiration, so much so that I find myself saying "wow" out loud over and over again as I turn the pages. The humor in some of this jewelry breaks all the rules. This one lives on my "altar of sacred beading books."
The Penland Book of Jewelry: Master Classes in Jewelry Techniques: I love studying jewelry made in media other than my own, and reading this book is one of my favorite ways to do that. It features some of the most innovative designs I've ever seen. And the devotion to excellence awes me. It inspires me to push boundaries in my thinking and designing. It's also an absolutely beautiful book in layout, design, and photography.
Costume Jewelry by Judith Miller: This book surveys the history of costume jewelry by name: it's a fantastic encyclopedia of the best costume jewelry designers and design houses. Another book on my sacred altar.

Imperishable Beauty: Art Nouveau Jewelry by Yvonne Markowitz and Elyse Zorn Karlin: The flowing, feminine fluidity of the Art Nouveau movement is a constant source of inspiration. This book is filled with unusual pieces. Beautiful photography.
List No. 2: Jill Wiseman
Jill Wiseman is a beader and beading teacher, a blogger and popular social-media participant, and the author of an upcoming book, scheduled to release in Fall 2012, in Lark Jewelry & Beading's Beadweaving Master Class series.
1. Dimensional Bead Embroidery: A Reference Guide to Techniques by Jamie Cloud Eakin: One of the most comprehensive bead embroidery books out there, with tons of samples photos and illustrations. A visual and functional delight.
2. Rachel Nelson-Smith's Bead Riffs: Jewelry Projects in Peyote & Right Angle Weave: Fascinating dimensional beadweaving projects with inspiring color combos and excellent directions.
3. The Art of Beadwork: Historic Inspiration, Contemporary Design by Valerie Hector: Expands your ideas of what beadweaving can be.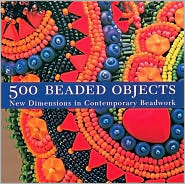 4. 500 Beaded Objects: New Dimensions in Contemporary Beadwork: So much inspiration that my heart goes pitter-patter every time I page though. All of the books in the 500 Series are wonderful sources of visual stimulation and a celebration of the arts.
5. Masters: Beadweaving: Major Works by Leading Artists: I have lust in my heart for these gorgeous designs, and when I feel the need for beauty in my life, I pull this book from my shelves.
While these are my current top six books, I could go on and on with the ones I feel are necessary and treasured additions to my bookshelf. Many of them are reference material for stitches and projects, others are inspiration for color and design, and some are just pretty and make me feel happy to look at. We are lucky that beadweaving book publishing is flourishing and expanding, so our libraries can keep growing!
List No. 1: Jennifer VanBenschoten
Jennifer VanBenschoten is a beader and jewelry designer, the online editor for Interweave's Beading Daily, the owner of VanBeads Jewelry & Design, and an active blogger and social-media participant.
Here are my favorites:
Creative Bead Weaving (out of print) and The Art and Elegance of Beadweaving, both by Carol Wilcox Wells: These two volumes formed the basis of my beadweaving self-education. I refer to them on an almost daily basis for ideas and information.
Beading with Peyote Stitch by Jeannette Cook and Vicki Star: This book took what was, for me, a very complicated beadweaving stitch and turned it into something that I could understand and use. I love Jeannette's sense of color, and her instructions are flawless.
Rachel Nelson-Smith's Bead Riffs and Seed Bead Fusion, both by Rachel Nelson-Smith: Rachel's amazing sense of design and structure really inspire me to take more chances with my beading projects. Her innovative combinations of wirework and off-loom beadweaving are simply fantastic.
The Beader's Color Palette and The Beader's Guide to Color, both by Margie Deeb: Use of color was something that I struggled with for many years when I first started beading seriously, but Margie's two books took the difficulty out of color theory. She combines her artistic know-how with her innate talent and has produced two valuable resources for anyone who wants to be taken seriously as a jewelry artist.
Laura McCabe's Embellished Beadweaving: This book just knocked me over. For years, I had admired Laura's intricate beadwork and wondered about her techniques. Her book really made me realize that in the right hands a simple beaded embellishment technique can take on a whole new dimension. The pieces in this book inspired me to start adding more embellishment to my own beadwork!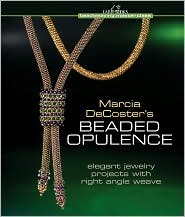 Marcia DeCoster's Beaded Opulence: By far, my all-time favorite beadweaving book. I love right-angle weave, and this book presented me with some absolutely gorgeous and technically challenging ways to master the stitch. Marcia's designs are elegant, beautiful and inspiring!
Vintage Jewelry Designs: Classics to Collect and Wear: I know that technically this isn't a beading or beadweaving book, but because I get so many of my ideas from vintage jewelry pieces, I found this book to be a fabulous reference to add to my collection. Reading about the history of jewelry designs gave me a greater understanding and appreciation of the pieces that I collect and recreate with beads!
I hope these are useful for you!